Achieving Fast, Simple Measurements
The Development of a Urinary Toxic Metal Measurement System
ARKRAY, Inc. will release the "SillBe LB-5410" Automated Toxic Metal Urine Analyzer on Monday 2nd July, 2018. It is able to easily measure the concentration of heavy metals (mercury *1 and lead *2) in urine in about 75 minutes, allowing it to be used in a wide field of clinical research.
The "SillBe LB-5410" being launched by ARKRAY, Inc. (hsereafter referred to as ARKRAY) is a system which can quickly and easily measure the concentration of heavy metals in urine.
Among the heavy metals, there are toxic substances that slowly accumulate in the human body, causing chronic health damage. During normal life activities, mercury and lead are known to frequently enter the human body and accumulate in large amounts. The accumulated amount of these heavy metals can be quantitatively measured using hair, skin, urine or nails as a sample, but measurements which utilize pooled urine after the administration of a chelating agent*3 are suitable for evaluation without being affected by excretory capacity variance among individuals. However, it is presently necessary to contract foreign analytical institutions, and the necessity to wait 2 to 3 weeks for results after mailing samples has been an issue.
In view of this, ARKRAY designed the "SillBe LB-5410" to be a system which can simply measure heavy metals (mercury, lead) in urine. Utilizing Plasma Atomic Emission Spectroscopy*4, which can detect trace amounts of metal with high sensitivity, the unique spectrum of mercury and lead is analyzed and quantified. Just by placing a dedicated reagent which contains a sample on the instrument, measurements can be carried out automatically and quickly (approx. 75 minutes), allowing for a large decrease in time compared to conventional means.
This time the instrument will be launched in the Japanese market ahead of time, but in the future we are aiming at expansion in the US and all over the world. ARKRAY will continue to use its fundamental technologies to enhance its product line-up and embrace new challenges in fields such as healthcare and anti-aging.
Product features
• Multiple items can be easily measured
Just by setting unprepared sample and a reagent pack on the instrument the concentration of heavy metals (mercury, lead) can be measured.
• Measurement possible in short timespan (approximately 75 minutes)
A measurement time of approximately 75 minutes per sample is possible. Compared with the 2 to 3 weeks required for overseas evaluation and analysis, the time required can be significantly decreased.
• Compact design
It is a small tabletop instrument suitable for any location.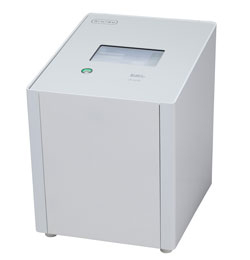 SillBe LB-5410
*This instrument and the reagent are for research use. They cannot be used for the purpose of diagnosing diseases or for assistance in performing diagnosis.
Terminology
*1 A substance contained in tuna and deep-sea fish whose diets primarily consists of small fish. It is also contained in the dentistry material Amalgam. Its primary relative symptoms are said to consist of dermatitis, nerve damage, depressive tendencies and anorexia.
*2 A substance contained in cigarettes, tap water, exhaust fumes and hair dye. It has an undeniable relationship with anemia, headaches, arteriosclerosis as well as a decrease in kidney and liver function.
*3 A substance which binds itself to the metallic ions of mercury, lead, etc., in such a way that it encloses them, forming a stable structure called a complex. In areas of medical care, aside from being used as an antidote for acute heavy metal exposure, in recent years it is also being used in the fields of healthcare and anti-aging.
*4 The metal in the specimen is collected at an electrode and a high voltage is applied, causing the metal to turn to plasma and emit light. Because the spectrum of light emitted differs depending on the metal, the specific spectrums of mercury and lead are analyzed and quantified.
Overview of the "SillBe LB-5410" Automated Toxic Metal Urine Analyzer
| | |
| --- | --- |
| Name | Automated Toxic Metal Urine Analyzer SillBe LB-5410 |
| Release date | July 2, 2018 (Monday) |
| Specification | |
| Measurement subject | Pooled urine |
| Measurement items | Mercury (Hg), lead (Pb) |
| Measurement principle | Plasma atomic emission spectrometry |
| Measurement time | Approximately 75 minutes per specimen |
| Necessary sample volume | 1 - 1.5mL |
| Dedicated reagent | SillBe Kit Hg, Pb |
| Memory capacity | For 100 measurements |
| Measurement environment | Temperature 10 to 25°C, humidity 30 to 70% (no condensation) |
| Power supply voltage | AC100 - 240V, 50/60Hz |
| External dimensions | Instrument:320 (W) × 400 (D) × 430 (H) mm |
| Power consumption | 250VA or less |
| Weight | Approximately 25 kg |
This product will be distributed by ARKRAY Marketing Inc.
ARKRAY Marketing Inc. is ARKRAY's distributor in Japan.