Sep 27, 2018
Announcing a Business Partnership with A&T Corporation
ARKRAY, Inc. (Head office: Kamigyo-ku, Kyoto, President & CEO: Takeshi Matsuda) has entered a contract with A&T Corporation (Head Office: Yokohama, Kanagawa, Chief Executive Officer: Shigetaka Misaka) for a business partnership in clinical testing. Both companies will collaborate on future development and sales operations to respond to increasingly diverse and sophisticated customer needs.
Today, ARKRAY, Inc. (hereunder, ARKRAY) entered a contract with A&T Corporation (hereunder, A&T) for a business partnership in clinical testing. For many years, both companies have diligently applied themselves to the development of business in the field of diabetes testing. As the needs of customers continue to diversify and grow in sophistication, both companies sought out a reliable partner and reached an agreement with the aim of utilizing each other's strengths and creating new value. In the future, ARKRAY and A&T will collaborate in both development and sales.
In the field of blood testing, ARKRAY designs and manufactures HbA1c and glucose testing systems (testing devices, diagnostics and related software) which they provide to a wide variety of domestic and overseas medical facilities including large-scale hospitals, testing centers and clinics. Additionally, ARKRAY has the largest production share of self-monitoring blood glucose meters intended for the personal use of diabetes patients in Japan and is broadly expanding into foreign markets as well.
A&T provides solutions to streamline lab work in large-scale hospitals, such as laboratory information systems and laboratory automation systems. In the field of blood testing, they offer analyzers and diagnostic reagents mainly for electrolytes and glucose, which are indispensable items in health checkups. Through OEMs and direct sales, their products see use in a wide variety of medical facilities, from small to large-scale hospitals, both domestically and overseas.
Regarding the specific details of this business partnership, the following development and sales partnership has been agreed upon at present.
<Business Partnership Description>
(1)The development of a connecting system which links ARKRAY's HbA1c analyzer with A&T's "GA09 II" glucose analyzer
(2)Domestic and overseas sale of A&T's "GA09 II" glucose analyzer.
(3)Cooperative development of laboratory information systems sold by both companies.
For other items, a consultative organization will be created from the management of both companies. This organization will engage in continuous and concrete consultation.
<A&T Outline>
| | |
| --- | --- |
| Trading Name | A&T Corporation |
| Representative | Chief Executive Officer Shigetaka Misaka |
| Head Office Address | 10F, Yokohama Plaza Bldg. 2-6 Kinko-cho, Kanagawa-ku, Yokohama, Kanagawa |
| Telephone | +81-(0)45-440-5813 (Main phone number) |
| Incorporation | May 25, 1978 |
| Number of Employees | 528 persons(including temporary workers) *As of December 31, 2017 |
| Sales | 10,371,970,000 JPY (As of December 2017) |
| Business Description | Development, manufacture, and sale of as well as customer support for laboratory information systems, laboratory automation systems, analyzers, and diagnostic reagents |
<Reference Materials>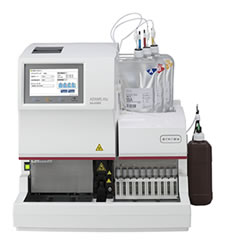 Glycohemoglobin Analyzer
"ADAMS A1c HA-8190V"
(ARKRAY)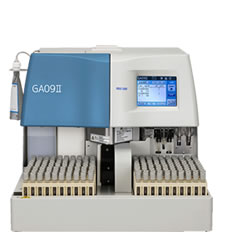 Glucose Analyzer
"GA09Ⅱ"
(A&T)
The information presented in this release is limited to Japan as of the time of its announcement.